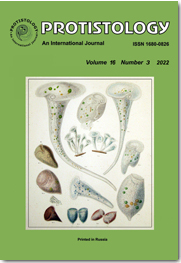 ISSN 1680-0826
Language: English
Abbreviated title: Protistology
Frequency: 4 issues per volume
Size: 210 mm × 280 mm
---

All articles published by Protistology are permanently accessible online immediately upon publication, without subscription charges or registration barriers.
AIMS & SCOPE
Protistology is one of the five "organism-oriented" journals for researchers of protistan material.
The Journal publishes manuscripts on the whole spectrum of lower Eukaryote cells including protozoans, lower algae and lower fungi.
Protistology publishes original papers (experimental and theoretical contributions), full-size reviews, short topical reviews (which are supposed to be somewhat "provocative" for setting up new hypotheses), rapid short communications, book reviews, symposia materials, historical materials, obituary notices on famous scientists, letters to the Editor, comments on and replies to published papers. Chronicles will present information about past and future scientific meetings, conferences, etc.
THE PECULIARITIES OF THE JOURNAL
♦ reviews, overviews and theoretical manuscripts on systematics, phylogeny, evolution and ecology of protists are favourably accepted
♦ the manuscripts on multicellular organisms concerning their phylogenetic and taxonomic relationships with protists are also accepted
♦ the size of manuscripts is usually not limited
---
ABSTRACTING & INDEXING






---
JOURNAL METRICS
Impact Factor, Overall Ranking, h-index, SJR, Rating, etc.