M.J. Paulsen, A. Smith: Новый вид рогача из рода Nicagus (Lucanidae) и обзор рода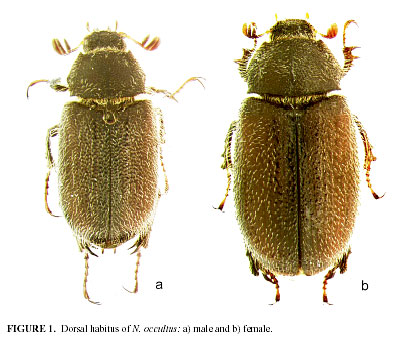 Рогач Nicagus occultus из Техаса
(фото из статьи)
Предлагаемая ниже статья интересна сразу в нескольких отношениях. Во-первых, это хороший образец обзора небольшого рода. Во-вторых, интересны сами рогачи рода Nicagus - настолько непохожие внешне и по образу жизни на обычных представителей семейства Lucanidae, что их относят иногда даже к другому семейству - Trogidae. В-третьих, один вид этого рода обитает в Японии, доходит там до самого севера и поэтому нельзя исключить его находку у нас на Дальнем Востоке (тем более, что в Северной Америке другой вид доходит до 47-ой параллели ).
---

Copyright: 2005 Magnolia Press
ISSN 1175-5334 (online edition)
M.J. PAULSEN & AARON D. SMITH
A new species of stag beetle from sand dunes in west Texas, and a synopsis of the genus Nicagus (Coleoptera: Lucanidae: Aesalinae: Nicagini) //
Zootaxa, 1050: 45-60 (2005).
University of Nebraska State Museum, W436 Nebraska Hall, University of Nebraska, Lincoln, NE 68588-0514, U.S.A. (mpaulsen@unlserve.unl.edu)
&
Department of Entomology, 216E Minnie Bell Heep, Texas A&M University, College Station, TX 77842-2475, U.S.A. (darkling@neo.tamu.edu)

Abstract
A new species of stag beetle, Nicagus occultus n. sp., is described from the Monahans Sandhills of western Texas. Previously, the genus Nicagus contained only two species: N. obscurus (LeConte) from the eastern and central United States and southern Canada, and N. japonicus Nagel from Japan. The discovery of N. occultus represents both an unexpected range extension and an unusual habitat (unvegetated sand dunes) for the family Lucanidae. A synopsis (diagnosis and distribution) for each Nicagus species is given, including detailed distributional information for N. obscurus.

---
Полный текст статьи с иллюстрациями - в файле PDF (977 Kb)